Market Square.
By Wendy Haaf
For Sheila Clarke, who grew up in Chicago and then spent 26 years on a farm in rural Ontario, Stratford, ON, blends the best qualities of both of her previous homes.
"It's very cosmopolitan in many respects, but at the same time, people here are friendly and supportive in the same way they are in a small farming community," she says.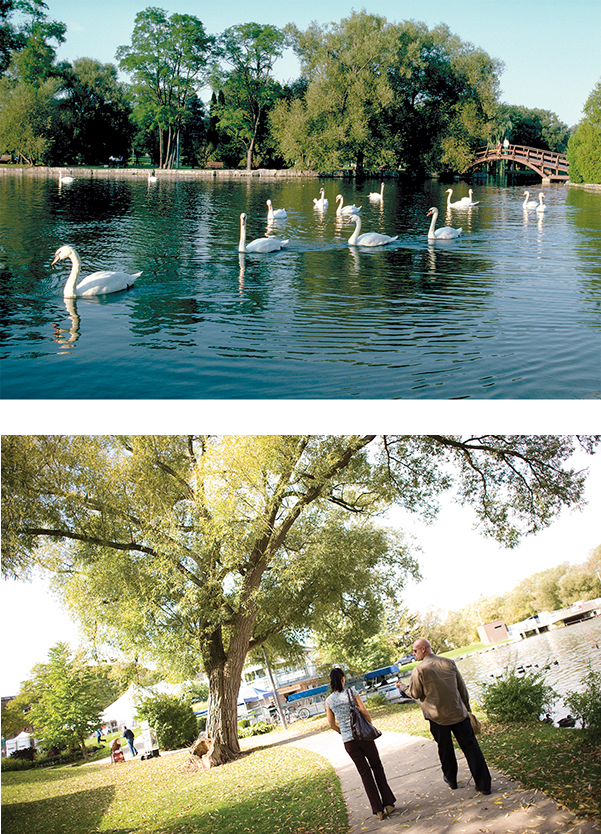 One of the first things visitors notice is the city's storybook loveliness, from the Victorian-era city hall and heritage houses to the prizewinning public gardens and the picturesque river dotted with swans and awning-shaded tour boats. With more than 135 hectares (335 acres) of formal parkland and nature areas, Stratford (population: 29,676) is a very green city that has in recent years become a leader in ecological gardening practices. "We like the setting," says Pat O'Rourke, who moved here from Victoria with his wife, Mary, three years ago. "We live on a street with more large trees than most forests."
The city's charms include a lively historic downtown, dependable public transit, and pedestrian-friendly neighbourhoods. "We can walk just about everywhere," says Chip Vallis, who, with his wife, Barbara, first bought a home here as a summer getaway.
The O'Rourkes and Vallises also enjoy Stratford's cultural riches, which go well beyond the city's renowned theatre festival.
"We have a wonderful summer music festival that brings in acts from around the world," Chip Vallis says. "We have a nice little art gallery, which brings in films from the Toronto International Film Festival and runs them every Monday night from September through May," he adds. "It's a cultural community with something for everybody." Or, as Mary O'Rourke puts it, "Stratford is a classy little town."
Home to a chef's school and surrounded by farms that produce everything from organic, pasture-fed beef to garlic (the fragrant bulb is celebrated with a local festival), Stratford features a feast of options for food lovers, as well, including culinary tours (the Bacon & Ale Trail is just one example), workshops on foraging, and shops specializing in such gastronomic delights as chocolate and artisanal cheese. "We have great restaurants," Pat O'Rourke says.
To feed the mind and spirit, you can enjoy one of several walking and biking trails, canoe along the river, join one of the city's multiple clubs or choirs, fill one of a host of volunteer positions, or sign up for one of the many activities (possibilities range from crokinole and Wii Sports to jewellery-making) at the Stratford Lakeside Active Adults Association. "If you're sports-inclined, there's golf, hockey, softball, soccer, lawn bowling, cycling, mountain biking, fitness clubs, and an infinite number of yoga studios," Clarke says. "There's a massive list of things you can get involved in."
A forward-thinking local government and a community-minded populace are two other assets that contribute to making the small city a vital, enjoyable place to live.
"The mayor has worked very hard to diversify our economic base," Clarke says, "and one of the things he has brought to Stratford is a satellite campus of the University of Waterloo." Specializing in digital m
edia, this offshoot of the university has brought a youthful spark to downtown Stratford, where Wi-Fi access is free, thanks to a city-owned data infrastructure company.
Residents are also very generous when it comes to supporting and fundraising for community projects, whether it's youth sports teams, an expansion of the local hospital, or the purchase of an MRI machine. "It's a very supportive community," Mary O'Rourke says.
On the subject of hospitals, "ours is truly excellent," Clarke says of Stratford General. "I have two new knees courtesy of that hospital, and a superb doctor." More specialized care can be handled at first-class facilities in Kitchener and London, both of which are roughly 45-minute drives away. The O'Rourkes were delighted with the care Pat received in Kitchener-Waterloo after he ruptured his Achilles tendon. "I was able to see a surgeon two days after my GP made the referral—in Victoria, I would have been lucky to see one in two months," he says.
Stratford is also fortunate enough to have a family health team. Care providers include nurses, occupational therapists, a pharmacist, and a dietitian, and the team was recently able to attract several additional physicians, resolving the problem of a shortage of family doctors.
It's no wonder that the Vallises, who made what was intended to be a temporary move to their summer home while awaiting completion of a condo in Toronto, gradually found themselves seduced by life in Stratford. "We enjoyed the community so much, we just decided to stay," Chip Vallis says. "It's a wonderful place to live."