By Wendy Haaf
The Musée Héritage Museum's Grain Elevator Park historic site.             Photos: dreamstime/Peter McLean.
Almost 20 years ago, Nora and Robert Clark lived in Nelson, BC. Nearing retirement, they wanted to move close to their children and grandchildren in Edmonton, but, Nora recalls, "after living in a small town, Edmonton was too overwhelming." While there are a number of communities in a ring around Alberta's capital city, the Clarks decided on St. Albert. "We chose it specifically because of the amenities it offers, the beauty of the place, and the small-town feel," Nora says.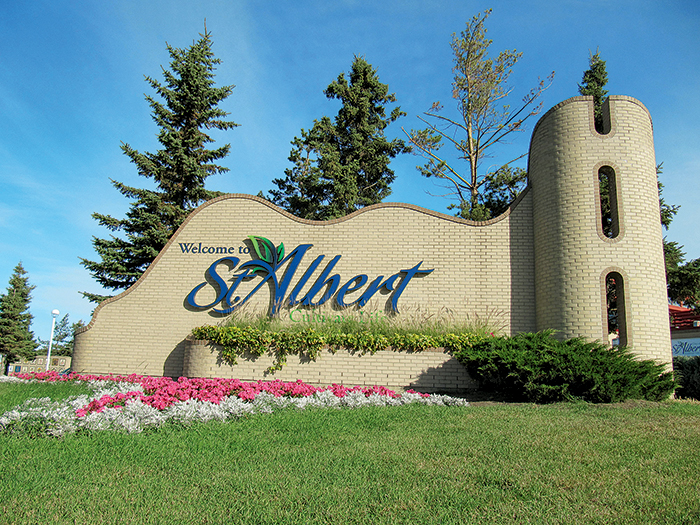 Heather and Rick Leslie also chose St. Albert over other options when they began planning to retire to the Edmonton area from Yellowknife four-plus years ago. With roughly 65,500 residents, Heather explains, "St. Albert has a population critical mass for seniors' services," including the very active St. Albert Seniors Association. Since they enjoy travel, being 30 minutes from an international airport also appealed to the couple. A full-service community hospital ticked a box on the Leslies' list of must-haves, and with the long term in mind, the Leslies decided that multiple assisted-living residences merited another check in the "plus" column. Many of the qualities that have earned St. Albert consistently high rankings on Moneysense.ca's annual list of "Best Places to Live" (including No. 1 in Canada in 2014 and No. 1 in Alberta in 2017) also make the city attractive to doctors and other health professionals. "Every time I open the free newspaper, there's another clinic advertising," Heather says.
Originally the site of a flourishing Metis community (the town houses the 1860s-era Father Lacombe Chapel, Alberta's oldest building), St. Albert is today known as the Botanical Arts city for the high value the community places on green space and natural areas. The city's Botanic Park is a gem operated and maintained entirely by volunteers. In total, St. Albert boasts 554 hectares (1,370 acres) of designated parkland.
"The city is based on greenery—if one tree comes down, two go up," Heather says. An 80-kilometre (50-mile) trail system runs the length of the Sturgeon River valley, with easy access from every neighbourhood. Having lived on a farm before coming to St. Albert four years ago, Rita Adamache and her husband, Vic, "love the nature feeling and the space," she says. "We have a trail and a playground right behind us, and we're just a block from the river. We go biking just about every day."
Lois Hole Centennial Provincial Park at the city's western edge provides habitat for numerous wildlife species and in fall is a staging area for tundra swans and pelicans. "I'm a birdwatcher, and the park is an amazing flyway," Heather says.
Conservation and sustainability are also key values in the Smart City Challenge, a movement in which St. Albert is a leader. The idea is to make wireless technology part of a city's infrastructure, to foster economic vigour and improve quality of life. St. Albert's Smart City Master Plan has already resulted in developments as various as an air-quality monitoring station and an app that allows transit users to learn exactly when the next bus is due using GPS information, and there's a plan to provide power for a fleet of electric buses using solar panels placed on municipal facilities.
Other factors that breathe vitality into the community include its wide array of leisure, artistic, cultural, and volunteer opportunities. City Hall houses studios for painting, quilting, pottery, and other crafts. The St. Albert Seniors Association offers a diverse calendar of classes and activities, from watercolour painting and languages to fitness and dancing, and the public library runs a host of programs including book clubs, computer and tech training, a writer-in-residence program, and the annual St. Albert Readers Festival titled "STARfest," a literary festival that brings in writers from across the country. "The festivals that St. Albert sponsors are amazing," Heather says, among them the five-day Rock'n August international classic car and music show that draws more than 50,000 people.
The city is also home to many clubs—such as the 30-year-old St. Albert Singers Guild—a 509-seat theatre, a highly regarded children's theatre, an art gallery, and heritage sites such as the St. Albert Grain Elevator Park. The Enjoy Centre—a large multi-purpose facility with a greenhouse, spa, café, deli, and bakery—hosts events such as the Tomato Festival, which features cooking demonstrations and tastings, as well as gardening and preserve-making workshops. On Saturdays during the summer, a free bus links the Enjoy Centre, the Botanic Park, and the city's outdoor farmers' market—the largest in Western Canada.
Golfers can choose among four local courses, and fitness buffs can avail themselves of a rich array of programs and services at the city's two recreation centres, which together offer a 270-metre (886-foot) indoor track, a training centre, a fitness and wellness centre, three NHL-sized ice surfaces, a children's playground, a water play centre (including a steam room and hot tub), three indoor pools, a multi-purpose court, and indoor soccer fields.
"There's so much to do—every day, I tell my husband I love it here," says Rita Adamache. It's a sentiment Nora Clark shares: "St. Albert offers just about everything you could want in a place," she says. "I don't know what else you could ask for."
Photos: Courtesy of City of St. Albert.