Discover why so many choose London, ON, as a retirement destination
By Wendy Haaf
Sandra March, 68, and her husband, Bernie, chose to move from Calgary to London, ON, after carefully weighing a long list of other possible places, including communities on Vancouver Island, British Columbia's lower mainland, and cities throughout Ontario. And while Kathy Smith, now 70, moved to London from Toronto as a young single mother, she opted to remain there in her retirement years after investigating other destinations ranging from Florida and Nevada to the Dominican Republic.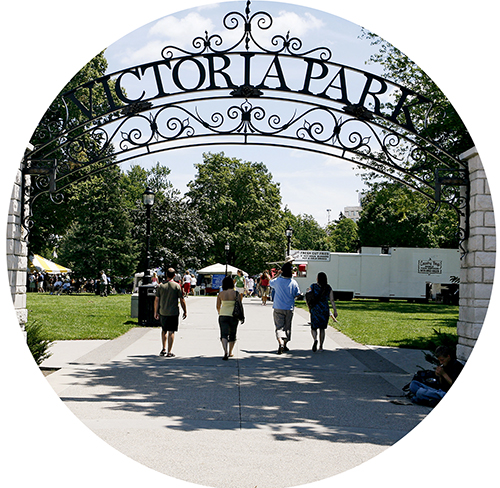 For Smith, who started the community group London Creative Age Network as a volunteer, a deciding factor was the city's size. With just over half a milion residents, she says, "London is just the right size for you to be able to have an impact in your community. Because it's a smaller municipality, you can have relationships with community leaders and influencers." Moreover, she says, "It's possible to participate in the life of the community, and even in local politics, and know you're making a difference." Smith adds that London is also large enough to offer many opportunities for "encore careers" after retirement
That ideal combination of a population half that of Calgary and many bigger-city amenities appealed to the Marchs, too. "We like the size and the friendliness," Sandra says. She adds that she and her husband have made many friends through the London Newcomers' Club.
Gail Hardman, 61, and her husband, Ray Goldfarb, 67, moved to London from Aurora, ON, three years ago. The couple still chuckle at the memory of new acquaintances exclaiming that getting to a particular event or location would require driving across town: unlike in Aurora, Hardman says, "that takes 20 or 30 minutes."
And if you prefer living in the country, like Jennie Chapman, 75, you can do so just a short distance from the city limits. "I'm within close proximity for groceries, entertainment, and restaurants," says Chapman, who lives in Thames Centre, ON. Yet her home sits on half an acre "and there's a cornfield behind me."
Real estate costs figured heavily in both the Marchs' and Hardman and Goldfarb's decisions. "We wanted to move to a place that was less expensive so we would have more money for travel, and we found housing prices reasonable here," Sandra March says. In fact, in 2015, London was ranked No. 1 among Canadian cities for reasonably priced housing (i.e., under $500,000), with average prices running at roughly $278,000 in 2016. Rents are also still affordable, averaging $963 for a two-bedroom apartment in 2015.
Proximity to medical care was also high on the list of necessities for both couples. "While we're both healthy right now, we felt it was important to be living where we had access to good health care," Hardman says, "and London is very well served as far as hospitals and health care are concerned."
A tertiary-care hub, London has two hospitals, a medical school, and two highly regarded health research institutes, as well as specialty services ranging from orthopaedic surgery and oncology to ophthalmology. "I needed attention to both of my eyes, so the availability of health services was the final deciding factor," says Garnet McDiarmid, 93, a former RCAF pilot and a retired university professor who moved to London three years ago from Port Colborne, ON.
London and its surrounding health region also boast a healthy supply of family physicians: more than 95 per cent of residents report having a regular doctor, versus 85.1 per cent nationally.
From horticultural societies and hiking groups to seniors' fitness programs and lecture series, the city also possesses a wealth of options for staying physically and mentally active. "There are so many golf courses around the London area that we're spoiled," Hardman says.
Between public libraries, a university, community colleges, and an active chapter of the Society for Learning in Retirement (which offers member-run learning programs), educational opportunities also abound, including various community lecture series, such as Western University's Mini Medical School and Classes Without Quizzes. "When we first moved here, we signed up for so many activities that we finally had to sit down and say, Okay, what are we going to focus on?" Hardman says.
"London is big enough that it offers a lot of things that smaller places wouldn't have," including a variety of good restaurants and a live theatre, Sandra March says. The city's ethnic diversity is a boon for restaurant-goers and cooks, whether your favourite cuisine is Middle Eastern, South Asian, Vietnamese, Thai, or Latin American.
Being roughly equidistant from Toronto and Detroit gives Londoners access to an even broader range of cultural activities and to two international airports (in addition to the local one), as well as to a wide array of small communities to explore on Sunday outings. "There are a lot of places around London to drive to, such as Port Stanley and Bayfield," Hardman says. "We also go to a lot of plays at Stratford."
"We can drive an hour in one direction and be at Lake Huron, or go to Lake Erie in the other direction," Kathy Smith says. "I love the sense that it's farmland and woodland, as well as the rich sense of history, from indigenous people to the first settlers. We're very lucky to be in this part of the world."
Photos: Image Ontario.