Advertorial — As the COVID-19 (coronavirus) threat continues, The Salvation Army remains committed to bringing hope and help to the 1.6 million people they serve.
"The spread of the virus will have a long-term impact on people's well-being," says Commissioner Floyd J. Tidd, national leader of The Salvation Army. "We are grateful to our front-line workers who enable us to provide our essential services and further support Canada's most vulnerable."
The Salvation Army is Canada's largest non-governmental provider of social services. Like many other charities, The Salvation Army has taken unprecedented measures to limit exposure to the coronavirus.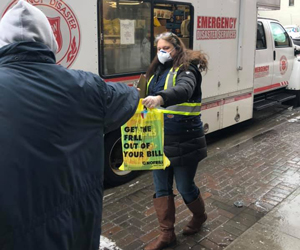 Volunteer from The Salvation Army in Oshawa, ON.,
hands out bags of food to families during the COVID-19 pandemic
In The Salvation Army's more than 225 community and family services offices, social distancing measures are in place and feeding programs are altering the way they serve to ensure that no one goes hungry.
All thrift stores and donor welcome centres across Canada are closed to the public. Donors are asked to set material donations aside until thrift stores can safely reopen.
In emergency shelters and traditional housing settings, meals are brought to rooms. Staff are provided with personal protective equipment, which is disposed of after each visit.
Long-term care facilities are following strict visitation protocols, working in partnership with local health authorities.
Lt-Colonel John P. Murray, spokesperson for The Salvation Army says, "As we navigate these challenging times, we are guided by our mission, our values and evidence-based information published by local health authorities and the Public Health Agency of Canada."

Support the vulnerable during COVID-19.
By Linda Leigh
Manager of Communications
The Salvation Army Canada and Bermuda